Our Staff
Board of Direcrors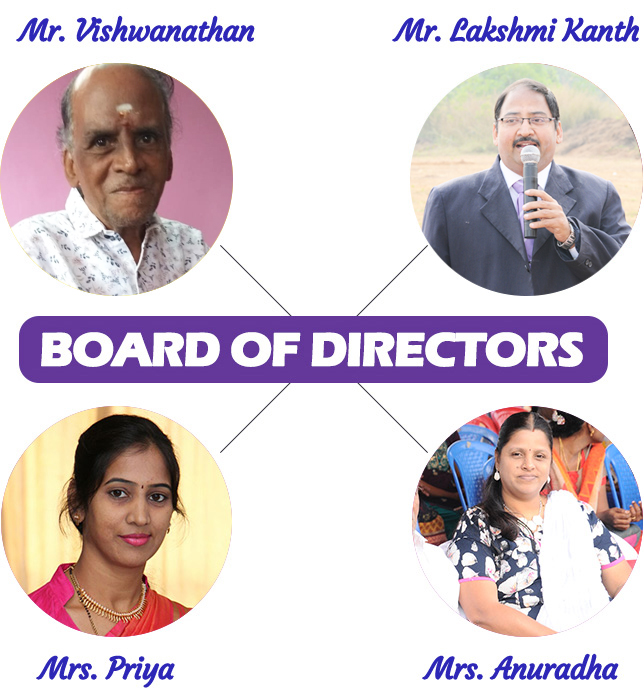 Mr. Viswanathan:
A person who is very soft hearted and treat his employees as his own daughters. His encouragement makes each and every Kizzardian to explore their strengths. He is a very active and pleasant personality. His contribution to the school makes KIZZARDS the best place to be with.
Mr. Lakshmi Kanth:
'Leadership is not a position or a title, it is an action and example'. The above words are appropriate for our Director. He is soft spoken, kind hearted, generous and above all he is a man of Diplomacy.His steps towards education makes wonders for Kizzards.
Mrs. Priya:
A young and enthusiastic person by nature.Mrs.Priya is the engine that drives the entire 'Team Kizzards'.She strongly believes that grooming the young minds is the best Service we cando to the society. What ever thoughts we may walk in the school, the moment we greet her, her positive energy passes on each of us and that way she is so special for the team. She has special interest to kitchen, gardening and dancing.
Mrs. Anuradha:
Anu Ji, that's how she is fondly called of, is a lovable person who gives her valuable hands whenever needed. Her innovative ideas and views for the betterment of the institution cannot be put in words. Rather we can say in one word, " Ever ready" service minded personality.